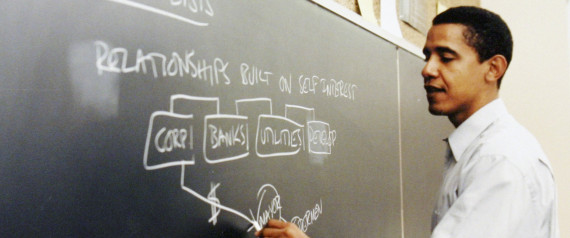 Peter Dreier has a great piece on President Obama's background as a community organizer. The priceless photograph above comes from Dreier's article. I also explore this aspect of the president's past in We are the Ones We Have Been Waiting For, pp. 152-161.
Dreier writes, "But Obama seemed to abandon his affinity for organizing soon after he entered the White House. He tried to be a consensus-builder, eschewing conflict, even with those in Congress and in corporate boardrooms who pledged not only to defeat his policy agenda but also to undermine his legitimacy as president."
Indeed, Obama's consensus-building contrasts with the confrontational style of community organizing that he employed on occasion in Chicago in the 1980s and that he faced recently when he met a group of young leaders in the White House. As movingly recalled by Phillip Agnew, the White House meeting was a frank exchange between "a community in active struggle against state sanctioned killing, violence and repression" (on one side) and the leader of that very state, the former community organizer turned POTUS (on the other). Agnew concludes:
We walked out of that meeting unbought and unbowed. We held no punches. There was no code-switching or bootlicking; no concessions, politicking or posturing. The movement got this meeting. Unrest earned this invite, and we can't stop.

If we don't get what we came for, we will shut it down. President Obama knows that and we know it. No meeting can stop that.
I'd only complicate the contrast in one way. Obama was trained in confrontational tactics but also in relational organizing. Frank C. Pierson, who is an Industrial Areas Foundation organizer in Durham, NC, says that the IAF network's "relational culture is characterized by positive valuation of relationships themselves as well as the capacity for collaborative action they generate.  Relationships tested in the crucible of public action when sustained over time can forge lasting political friendships within, between and outside IAF organizations." Scott Reed, the executive director of the PICO organizing network, told me recently that he and his colleagues strive "to develop relational capital." The veteran organizer Gerald Taylor recalls the reason that a Maryland IAF affiliate called BUILD defeated the NRA:
Thousands of people were talked with and listened to. Questions about the nature of community and the relative merits of a law that was not perfect were discussed. In short, people were taken seriously as citizens.
BUILD members met with Senator Paul Sarbanes, who asked them their "demands." "'None,' they responded, to the senator's amazement. 'We came here to find out what your interests are: Why you ran for this office and what you hope to achieve."
Relational organizers do not value all relationships equally, but they treat the development of a new relationship as an asset even if it involves an adversary. This is why the relational approach is sometimes called "broad-based" (as opposed to "issue-based") organizing. Obama likewise observed in 2007 that "politics" usually means shouting matches on TV. But "when politics gets local, when the person talking to you is your neighbor standing on your front porch, things change." In that speech, he called for "dialogues" in every community on Iraq, health care, and climate change.
Note that the diagram that a younger Barack Obama is drawing on the chalkboard (above) is a relationship map. It shows problematic relationships among banks, utilities, and other powerful entities; but if he applied relational organizing techniques, he was about to add citizen groups to the same diagram. After all, he wrote at length as a young organizer about the "internal productive capacities, both in terms of money and people, that already exist in communities." He was, in fact, a practitioner of Asset Based Community Development, which emphasizes the power and resources already present in marginalized neighborhoods.
Confrontation is not incompatible with relationship-building or a positive assessment of community assets. Any robust movement will combine these approaches and will debate the relative importance of each at every moment. I believe that confrontation is necessary and helpful at the current juncture. But I think that Obama has used something of a mix himself, as president. And when he has elected to build consensus, that too comes from his experience as a community organizer.
*Frances Moore Lappe, "Politics for a Troubled Planet" (1993), pp. 175-6